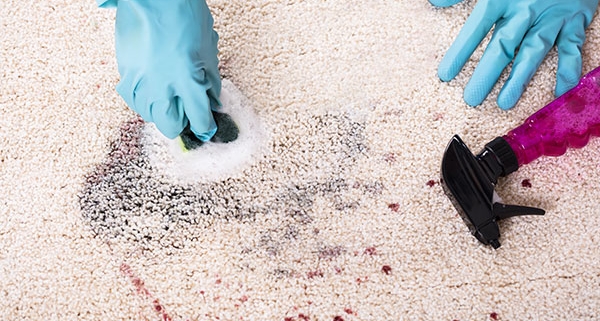 Sometimes before you engage a carpet cleaner Brisbane service to get rid of carpet or rug stains, you may like to try some DIY solutions. Even if you don't have a commercial carpet stain remover on hand, you may already have some household products that can help remove some of the most common stains.
DIY Carpet Stain Remover Options
The following products can be used as a carpet stain remover for some stains. However, before you try the carpet cleaning solutions below, make sure you first conduct a patch test in an inconspicuous spot to make sure that it won't affect the carpet or rug appearance.
1. Soda Water
Soda water can be effective in removing light stains such as tea or coffee, if used soon after the spill took place. Apply the soda water to the stain and gently blot it. Repeat the process several times to get rid of all the traces of stain on the surface of the carpet or rug. If this doesn't remove the stain, you may need to try a commercial carpet stain remover or engage a professional carpet cleaner.
2. Vinegar
Vinegar can be used to remove several types of stains as outlined below:
Light stains – Mix 2 tablespoons of salt in half a cup of white vinegar and apply to the stain. Let the solution dry and vacuum the carpet after.
Darker stains – Combine 2 tablespoons of Borax or Bicarbonate of Soda to the salt and vinegar solution, then follow the above steps.
Water-based paint – Combine 1 1/2 teaspoons of vinegar and 1 1/2 teaspoons of laundry detergent into 2 cups of water. It is important to sponge the paint before it sets into the surface. Rinse it with water.
Juice stains – Place a tablespoon of laundry detergent and one a half tablespoon of white vinegar in 2 cups of water. Apply on the spot and blot the stain out.
Tea and coffee stains – mix equal parts of water and white vinegar. Apply on the stain and blot it out.
3. Cornstarch
Cornstarch can be good for removing tougher stains. Mix 1 tablespoon of vinegar with a tablespoon of cornstarch until the mixture becomes a smooth paste. Apply on the spot and let it stand for two days. Then vacuum to remove.
You can also use cornstarch to remove oil and grease stains. Sprinkle the cornstarch on top of the stain and let it stand for a couple of hours. Vacuum to remove the powder.
4. Hydrogen Peroxide
If you don't know the cause of the stain, you can use a mixture of hydrogen peroxide and a small amount of non-gel toothpaste to remove it. Just apply the paste on the spot with a soft cloth. You will need to check and follow the safety instructions on the Hydrogen Peroxide label and undertake a patch test to ensure it won't bleach your rug or carpet.
Contact The Professional Carpet Cleaning Experts At Sun Dry
While the above common household products can be used as a carpet stain remover, you may need a professional carpet cleaner Brisbane to deal with the most stubborn stains. Contact the specialists, Sun Dry, for all of your carpet cleaning and pest control Brisbane needs.
Are you looking for free carpet cleaning estimates for your home or business anywhere in & around the Brisbane Metro Area? We provide Free quotes for carpet cleaning and pest control. Make your Booking Enquiry Now! or call (07) 3889 0300