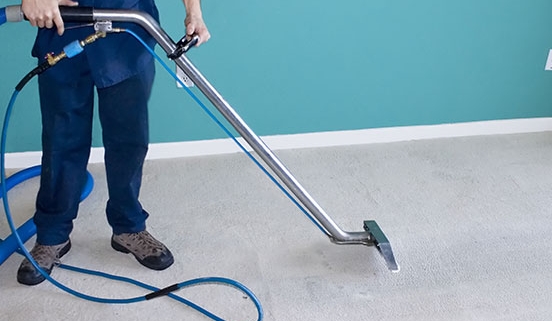 If you vacuum your carpets regularly, do you have to invest in professional carpet cleaning?
In this article, we'll answer the question what is carpet cleaning, as well as discussing the different types of carpet cleaning and which option is right for your home or office.
What is Professional Carpet Cleaning?
Professional carpet cleaning is conducted by a professional carpet cleaning specialist – such as those we have on hand at Sun Dry. Using expert equipment, they will get your carpet cleaned much more efficiently and effectively than your average domestic cleaning.
It is recommended that you have your carpet cleaned professionally at least once a year (or more frequently if you have pets, are a smoker, have children or allergies).
What are the Different Types of Carpet Cleaning?
There are a few different types of carpet cleaning procedures you can consider when approaching a professional like us. Here, we'll take you through each one and discuss the merits of your options.
Dry Cleaning
Dry cleaning is most commonly associated with the vacuuming process you yourself use frequently in your home or office.
Staff will attend your home with an industrial-strength vacuum cleaner and give your carpeted rooms a good clean that is much deeper than what you would achieve with a domestic vacuum.
It involves no chemicals and because of this, there is no drying time involved.
Steam Cleaning
Steam cleaning is a much more effective solution if you want your carpets to be clean. At Sun Dry, we use only the best quality hot water extraction equipment to reduce allergens and remove in ground dirt the naked eye cannot see.
Deep Cleaning
Deep cleaning is the best possible method of carpet cleaning, and the most heavy duty option for professionals such as ours to use when managing heavily stained carpets.
With this clean, we give your carpet a really intense clean with specialised equipment to remove germs and dirt and ensure that it is as safe and healthy for you, your family or co-workers.
This is a particularly effective method for high traffic areas like the lounge room, hallway or office.
At Sun Dry, we specialise in the latter two options so when you approach us to assist with your professional carpet cleaning, you can be assured that you are receiving nothing less than the best.
How Do You Know Which Type of Professional Carpet Cleaning Option is Right for Your Home?
While you can hire equipment and perform carpet cleaning yourself, this is not something we would recommend.
At Sun Dry, we will attend your home and provide you with an obligation-free quote, complete with advice on which method would be most suitable for your home or office.
When to Call in the Experts from Sun Dry
If you want to be confident you're getting a professional carpet cleaning service, complete with advice from knowledgeable experts who have been working in the industry for years, you need to contact the team at Sun Dry.
Our level of service is second to none, and we will get your job done efficiently, professionally and effectively every time.
To find out more about carpet cleaning and how you can benefit from our premium services, contact our team at Sun Dry today.
https://sundry.com.au/wp-content/uploads/Carpet-Cleaning-Brisbane.jpg
500
552
Sundry
https://sundry.com.au/wp-content/uploads/SUNDRY-carpet-cleaning-pest-control-rtm.png
Sundry
2022-05-31 15:07:49
2022-05-31 15:12:57
What is Carpet Cleaning?