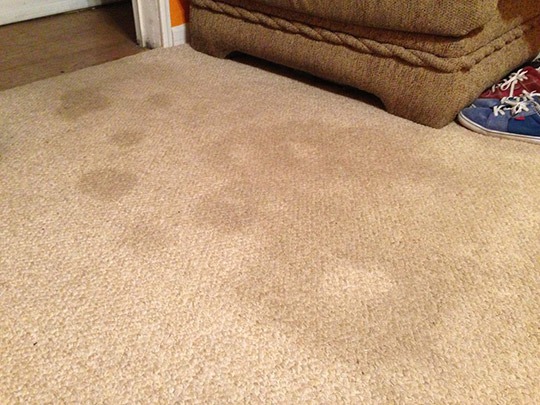 Carpet cleaning can be tedious, especially when it has to do with deep stains. Generally, the best way to avoid stressful cleaning is to clean out a carpet stain as soon as the spill occurs. This makes it sound easy, but in reality, working with very deep stains isn't. Sun Dry Carpet Cleaning & Pest Control knows how to clean deep carpet stains and will help you get rid of deep stains that are giving you heartbreak.
Tips to Clean Deep Carpet Stains
It is important to understand how to clean deep carpet stains as a result of coffee spills, blood stains, pet stains, and more to get your carpet back to normal. Here are simple tips to help you.
Use of Baking Soda Paste
Baking soda (also known as Bicarbonate Soda) paste can be prepared by adding a little amount of water to baking soda and stirring until a thick white paste similar to a toothpaste is formed.
Vacuum your carpet to remove dust and loose dirt.
Apply the baking powder paste generously over the deep stain and rub it gently into the carpet using your fingers. Wait patiently for some time after the application.
Then, fold a clean towel and put it over the deep stain on the carpet. Hold the towel down using a few heavy books.
After 30 minutes, the stains should have been transferred onto the paste. Vacuum to remove the leftover paste.
Use of Hydrogen Peroxide
This is a simple process but is only suitable with surfaces that will be unaffected by bleaching. It's important to conduct a small patch test first. The process involves the following steps.
Fill a spray bottle with a hydrogen peroxide solution, following the safety and application instructions on the product label.
Saturate the deep stain on the carpet by spraying the chemical onto it. You can use a carpet brush to loosen up the stain.
After 15-30 minutes, blot up the stains using a clean towel or a steam vacuum to suck up the chemical.
Repeat the routine as needed and remove the leftover moisture using baking soda or salt.
Use of Vinegar
This method requires vinegar, a spray bottle, a clean towel, hot water, and a steam iron. Here are the steps involved:
Fill the spray bottle with ¼ ratio of vinegar and ¾ water.
Spray the deep stain with the vinegar-water mixture. Place a clean towel over the saturated stain and steam iron over it to transfer the stain to the towel.
Repeat the routine until the stain is completely removed. Change the towel when necessary.
Use of Ammonia-water Mixture
An ammonia-water mixture can be produced using 1:1 mixture of ammonia and hot water. It's important to conduct a small patch test first, then follow these steps:
Generously spray the ammonia-water mixture over the stain, following the safety and application instructions on the product label.
Get a clean towel and place it on the stain, then use a steam iron to iron it.
Change the towel as soon as it gets stained and repeat the process until the stain is removed completely.
Get Rid of Carpet Stains with Professional Help From Sun Dry Carpet Cleaners Brisbane
Many of the cleaning agents mentioned are household chemicals and cleaners that are easily obtained. Professionals use a variety of techniques to clean carpet stains. For expert help on how to clean carpet stains, do not hesitate to call Sun Dry Carpet Cleaning & Pest Control Brisbane.
Contact Sun Dry today email info@sundry.com.au, fill in our contact form, or call Phone: (07) 3889 0300/ Mobile: 0418 888 514 during business hours 6:00 AM – 8:00 PM; 7 Days a Week.

https://sundry.com.au/wp-content/uploads/how-to-clean-deep-carpet-stains.jpg
405
540
procloud
https://sundry.com.au/wp-content/uploads/SUNDRY-carpet-cleaning-pest-control-rtm.png
procloud
2018-07-18 09:00:43
2019-02-08 12:48:39
How to Clean Deep Carpet Stains